Appreciate the Private Dining Area as you treat yourself with multiple cuisines and Live Music at The F District - Cafe| Bar|Lounge|kitchen. You can also have a good time whilst enjoying the free WiFi provided!
Deals
39% Off - 4 Domestic Beer or 2 Drinks + 1 Starter (All Days)

Dine-in

4 PM - 10:30 PM

Deal TnCs

4 Kingfisher Beer Pints OR 2 Domestic Drinks (60 ml)
Drinks Options: Blender's Pride/ Bacardi/ Mansion House/ Smirnoff/ Blue Riband
Choose any 1 Veg OR Non-Veg Starter
Starter Oprions: Crispy Veg/ Veg Manchurian/ Panner 65/ Chicken Manchurian/ Tawa Chicken/ Bhatti Ka Murg
The brands mentioned for drinks served are subject to availability. Drinks will be served on all offer valid days, except dry days. Please check local dry day listings before availing the offer.
Valid on public holidays.

11% Off - Veg & Non-Veg Lunch Buffet

Dine-in

12 NOON - 3:30 PM

Deal TnCs

Buffet Spread includes: 1 Soup (Veg/ Non-Veg), Salads (2 Veg , 1 non veg)
3 Veg Starters ( 2 Indian , 1 Chinese ), 3 Non-Veg Starters (1 Chicken Tandoori, 1 Chicken Chinese, 1 Fish Chinese)
5 Veg Main Course (1 Paneer Preparation, 2 Veg Dishes, 1 Chinese Preparation, 1 Veg Noodles), 4 Non-Veg Main Course (1 Non-Veg Pasta, 1 Mutton gravy/ Prawns Gravy, 1 Indian Chicken Gravy
1 Chicken Dum Biryani, Steamed Rice, Curd Rice, 1 Veg Fried Rice
Accompaniments (Mirchi Ka Salan, Sambar, Dal, Raita, Papad, Pickle, Mint Chutney, Hot Garlic Sauce, Mustard & Spicy Mayo)
Desserts (3 Indian (2 hot , 1 cold ),1 Ice cream to Desserts(2 indian(1 hot, 1 cold), 1 ice cream
Redeem the deal code at the outlet before consumption.
Valid for 1 person. Sharing not allowed.
All items in Buffet Spread are subject to availability.
La Palate
Cuisine:
Asian, Continental, Thai, Mexican, North Indian.
Overviews:
The place has lot of variety in food. It maintains its beauty because it is spacious and the lights there also add to the beauty of the place. it uses its decor to attract most of the customers towards itself. The Deserts and the starters are the main course and also the favorite of the daily customers of this place.
Must Try:
Blueberry Cheesecake
Chimichangas
Chicken salad
Stuffed Kulcha
Average cost (for 2):
Rs. 1,200
Images: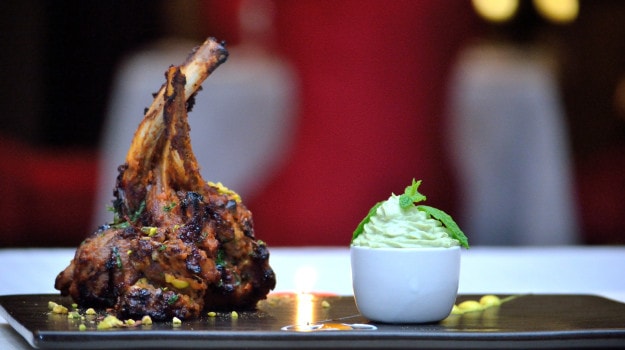 How to redeem the Deal
Once you are at the outlet, present your voucher code (available in My Orders) to the merchant. Remember to present the voucher before placing your order.
Terms & Conditions
MRP is indicative and may vary from outlet to outlet or due to change in menu prices / taxes / service charges.
Offer Price is all-inclusive, unless specified otherwise.
Items listed in the offer are subject to availability at the outlet.
Serving time may vary during peak hours.
Address
3rd Floor, 136/137, Anvis Eco Grand, Near Wipro Lake, Nanakramguda Road, Financial Dist
gachibowli
,
Hyderabad
500036